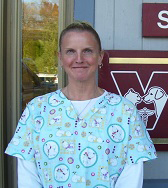 Senior Veterinary Technician
Tracey joined our team full time in October of 2013, but has been a member of the veterinary profession for over twenty years. As a child she knew she wanted to work with animals and fulfilled her dream when she graduated from Harcum University with an associate's degree in Veterinary Technology. She has been working in the field locally ever since, doing what she loves.
Tracey enjoys all animals and has a special place in her heart for Shetland Sheepdogs and Himalayan cats. Tracey's decades of experience, her all-encompassing passion for animals and her dedication to their well-being make her a valuable member of our team at Valley Forge Animal Medical Center.